Our shop
Products with a purpose! Beautifully designed to raise awareness on the environment, the arts and social justice issues. All of the funds raised from the sale of products in our OUTSIDE THE BOX / Earth Arts Rights shop support our ongoing projects and the initiatives of fellow artist/activists and non-profit organisations. Thanks for helping us make a difference.
We offer free shipping for domestic orders over $150.
We currently only ship to a small number of selected international destinations. Read our Shopping FAQs for more information.
BIRDS OF TASMANIA
Boxed Card Set
The 12 birds reproduced in the Birds of Tasmania boxed set are part of a collection of 200 watercolours by Susan Lester (1956–2022) held in the collection of the Tasmanian Museum & Art Gallery. In the tradition of the folio volumes by significant bird artists, the full collection of Susan's 200 paintings with accompanying ornithological text by Bob Green and Eric Woehler will be available in a bespoke large-format book to be published in 2023. You can buy the boxed set now and also register your interest to pre-order the book, to make sure you secure a copy.
Size: 146 mm [wide] x 188 mm [high] x 50 mm [deep]
Extent: 12 blank cards and envelopes, matt laminated
water[shed]
Boxed Card Set
This boxed set of cards features works by 12 of the 50 artists who participated in the water[shed] exhibition at Bett Gallery from 5–27 August 2022. Artists include: Helen Wright, Imants Tillers, Stephanie Tabram, David Stephenson, Michael Schlitz, Troy Ruffles, Geoff Parr, Ashlee Murray, Mish Meijers, David Keeling, Guerrilla Girls, Lou Conboy/Tom O'Hern.
Size: 146 mm [wide] x 188 mm [high] x 50 mm [deep]
Extent: 12 blank cards and envelopes, gloss laminated
water[shed]
Book
The water[shed] exhibition publication is a beautifully presented book published by OUTSIDE THE BOX / Earth Arts Rights. The work of each of the 50 participating artists and an accompanying artist statement is showcased in a full-colour double-page spread. There are also four illustrated essays by renowned academics Kate Crowley and Greg Lehman, writer Danielle Wood and activist Tracey Diggins.
Size: 270 x 240 mm [high]
Binding: hard case, section sewn
Extent: 132 pages
Additional Images: Archival maps, historic images and photographs by William Piguenit, Olegas Truchanas, Geoff Parr and Wilf Elvey
water[shed]
Restore Pedder
Pinot Noir
OUTSIDE THE BOX / Earth Arts Rights has partnered with Will and Jacquie Adkins of the Tamar Valley vineyard Westella to produce a special release twin pack of their 2019 Pinot Noir to support the Restore Pedder campaign.
Will and Jacquie are passionate about Tasmania's natural environment and creative arts. This Restore Pedder Pinot Noir is their contribution to the celebration and protection of our exceptional island state.
Both bottles feature the artwork of celebrated Tasmanian artist Sue Lovegrove. Westella's relationship with Sue extends back to the earliest days of the vineyard with the use of The long walk, Skullbone Plains, Tasmania (2014) as the featured artwork across the full range of Westella wines.
The special release Restore Pedder Pinot Noir label features a detail from Mapping the invisible, [reconstructed map] (2021) that Sue created for the water[shed] exhibition. The work depicts an evocative and intricate recreation of the rivers and creeks that formed the original watershed of Lake Pedder prior to its flooding in 1972.
We thank Labelhouse, Melbourne for their generosity in printing our Restore Pedder special release label.
Raise a glass to Lake Pedder's restoration and raise campaign funds too.
When you click 'Buy Now' you will be redirected to Westella's website where you can download their order form to place your order.
water[shed]
Postcard Set
A set of 25 different postcards by selected artists from the water[shed] exhibition held at Bett Gallery in 2022. Each postcard features an artist's work alongside an excerpt from their artist statement. Each set includes a bonus card featuring the original Lake Pedder. It is not forgotten, but lies quietly waiting. Use these cards to tell friends about the exhibition or to send a message to decision makers to make the restoration of Lake Pedder a reality in this UN Decade on Ecosystem Restoration 2021–2030. Restore. Bring back, return.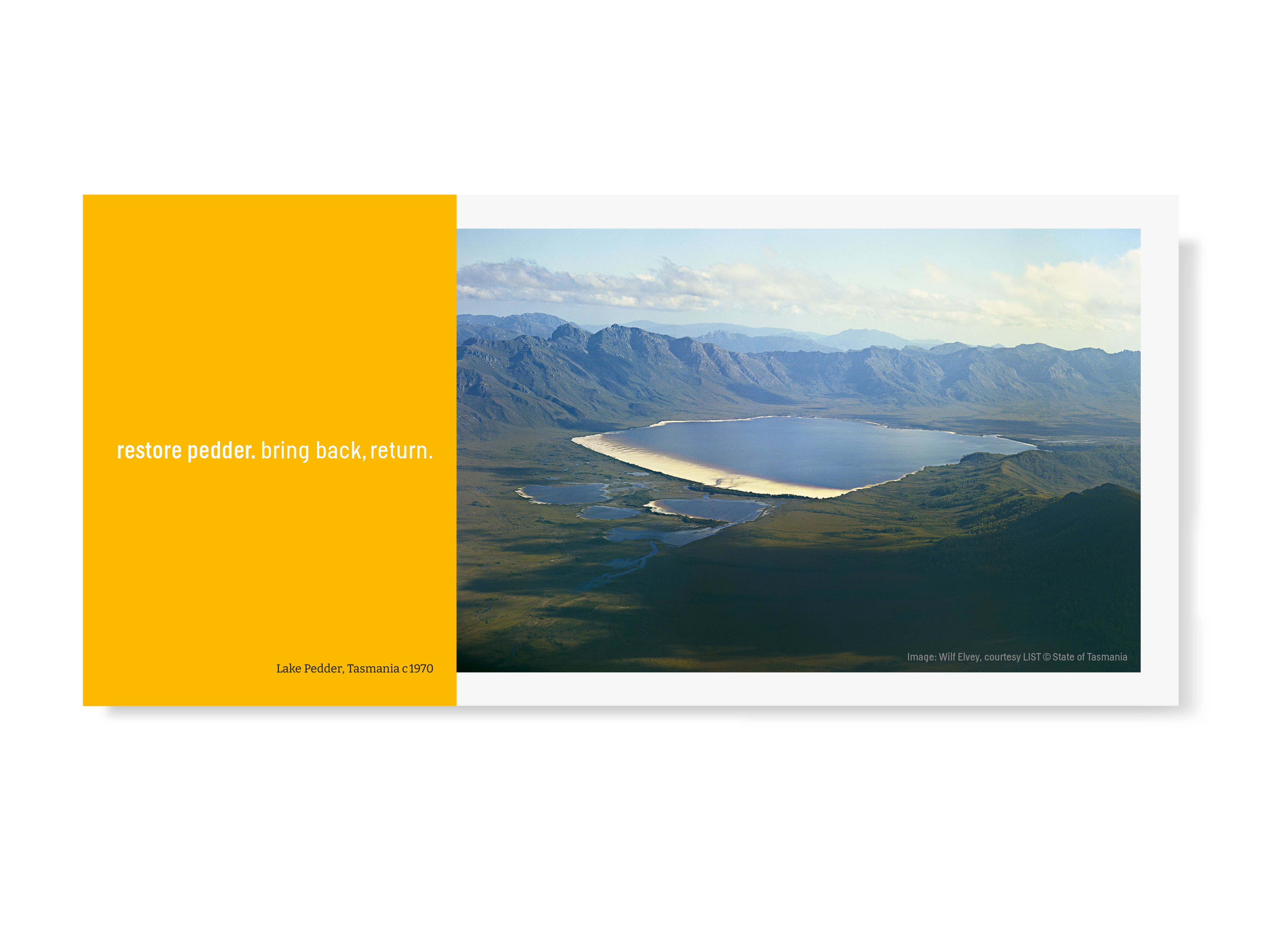 water[shed]
Restore Lake Pedder Jigsaw
This quality jigsaw puzzle features a striking image of Lake Pedder taken from high on the Frankland Range by photographer and activist David Neilson during the last summer in 1972, before the Lake was inundated by the rising waters of the Huon-Serpentine hydro-electric impoundment.
By completing this jigsaw you will be taking part in imagining the Lake's restoration. Once you have experienced this metaphorical reassembly of the Lake Pedder make sure you join the thousands of others determined to bring the Lake back in reality.
Pieces: 1000
Size: 736 x 584mm
TENSE PAST
Julie Gough
STANDARD AND BOXED EDITIONS
Thank you!
The Standard and Boxed editions of TENSE PAST sold out within 3 months of release and raised crucial funds to support Julie's ongoing arts practice and future exhibition publications.
We are currently exploring the option to reprint this powerful book. You can subscribe to our newsletter for updates on this initiative and all of our projects.
DIGITAL EDITION
Individual User Licence
This Digital edition designed for individual users is both affordable and convenient for students, supporters on a budget and scholars wanting information at their fingertips. When you purchase this edition you will receive a link to your digital download. All funds from the sale of the Digital edition will support Tasmanian Aboriginal creative and social projects and programs through Tebrikunna Projects.
If you require a Multi User Licence for your organisation or educational institution please contact us and we will be happy to discuss your specific needs.
IN A BIND
Hand-made Journals
These journals by Michael Small are hand sewn and bound using 120 gsm recycled paper and a variety of Irish and Japanese book-cloths or original boards. They typically have between 144 and 160 pages each. Michael rescues damaged or pre-loved books, maps, apple crate labels or publications to use as endpapers or inserts around a particular theme, destination or activity. Each book is unique so as they sell they will be replaced by a continuous rotation of new titles. If you see something you like, be quick!
To purchase a journal or to commission Michael to make a special book for you, enquire at hello@outsidethebox.org.au.
HIS CRIMES
Her Secrets
Daisy struggled her entire life to come to terms with the crimes men had committed against her.
His Crimes Her Secrets by Fran Spears is a true account, wrapped in a novel, of the domestic violence suffered by one woman at the hands of two men. A fierce advocate for women everywhere who find themselves in the grips of domestic violence, Fran donates 50% of the proceeds from the sale of this book to the Hobart Women's Shelter.
Size: 135 x 210mm [high]
Binding: paperback
Extent: 324 pages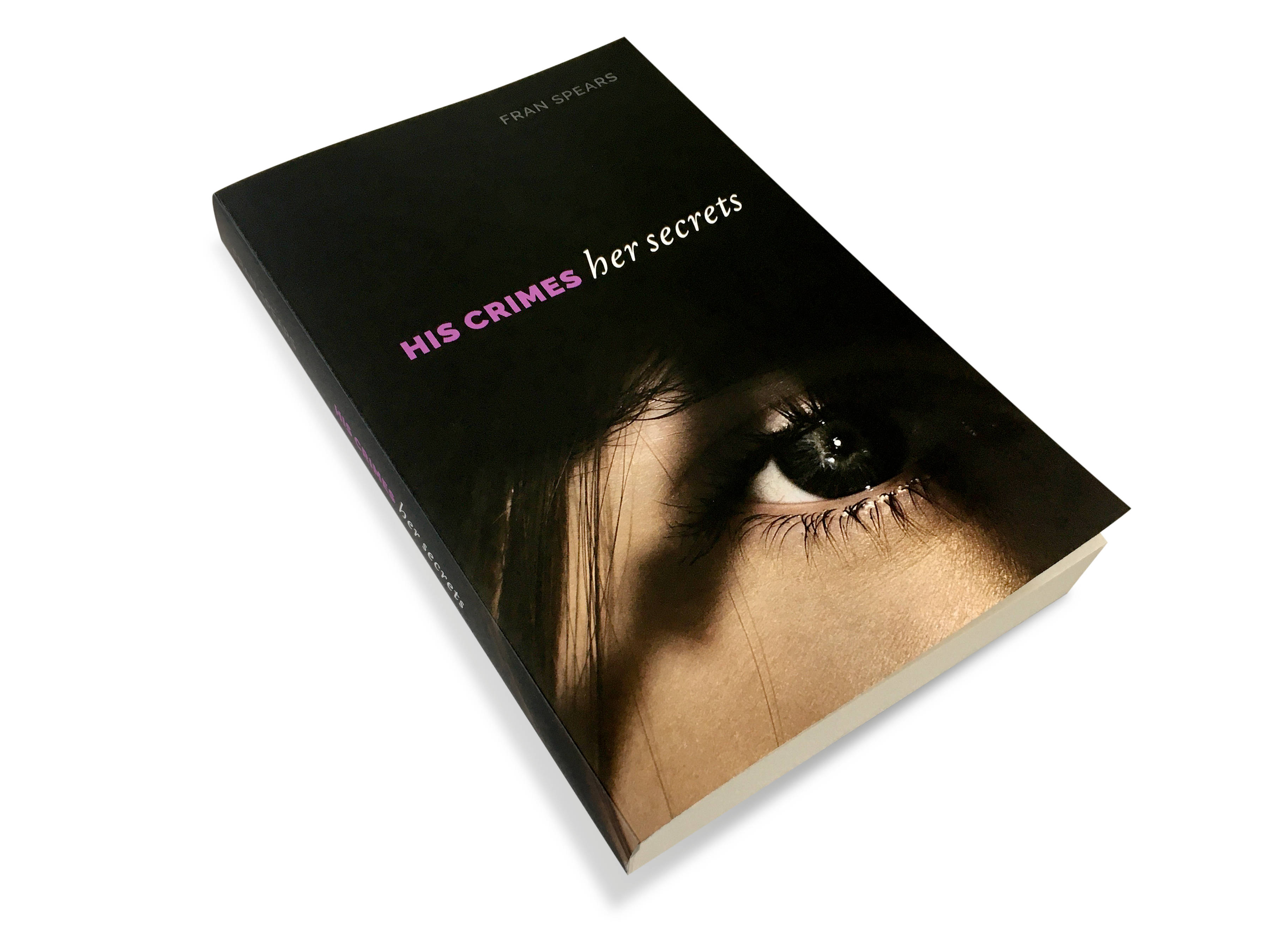 RAFTING
A Wheelchair Won't Stop Us!
Rafting: A Wheelchair Won't Stop Us!, written and illustrated by Janelle McMillan, is the story of Trent's rafting adventure with his friends. For this group of friends, though, going out on the river is not necessarily straight forward or simple, but with the wish to make sure Trent can experience the adventure with them, this group of friends make it happen! Recommended for students in the upper primary and lower secondary school age-ranges.
Size: 190 x 270mm [wide]
Binding: saddle-stitched
Extent: 54 pages