Tense Past
Julie Gough
I come from a long line of people who by default mistrust the status quo. Ancestors from many cultures, not destroyed by the British Empire, were displaced by it. I deploy my suspension of belief as a secret weapon, a radar of anxiety and responsibility to those who came before, to not let their lives, evading a culture not their own, render them lost in time.
About the project
Julie Gough is an artist, writer and curator based in Hobart, Tasmania. Her people are Trawlwoolway and her Traditional maternal country is Tebrikunna, in far north east Lutruwita (Tasmania). Julie's maternal ancestors include Dalrymple Briggs (c1810–1864), Woretemoeteyenner (c1790–1847), and Mannalargenna (c1775–1835), leader of the Plangermaireener.
Julie is one of Australia's pre-eminent contemporary artists. She has held 28 solo exhibitions and participated in 180 group exhibitions since 1994. Her work is held in many private and public collections nationally and internationally. Gough's works of art explore and expose erased and forgotten histories. They challenge the established colonial narratives perpetuated as Australia's national story, forcing us to ask questions and re-evaluate the veracity of the nation state.
Julie says of her of work:
'These artworks are investigations evolving from personal considerations of the place of memory, forgetting, loss, denial and the potency of the past within my own family. Increasingly evident is the use of open narrative to decipher self in the process of relating the past. Each work has been built from the outcomes of the last, and represents a claiming within a larger consideration of ways to personally invoke and involve nation, viewer and self in acknowledging our entangled histories.'
Publication
TENSE PAST documents Gough's major survey exhibition held at the Tasmanian Museum and Art Gallery, Hobart from –.
This epic exhibition, curated by Dr Mary Knights, showcased 25 years of Julie's art practice and reunited more than 30 artworks from collections across Australia.
Resonant historic artworks and objects were also selected by Gough to collectively critique, alongside her works, the colonisation of Tasmania and the aftermath-impacts on First People and colonists.
The publication also documents the installation MISSING or DEAD which was part of the Dark Path activation on the Queens Domain during the 2019 Dark Mofo festival, as well as selected works since 2019 to the present day.
TENSE PAST, with its powerful truth-telling narrative, is published by artist Julie Gough under her imprint Tebrikunna Press, with funding from Australia Council for the Arts and Arts Tasmania, Julie Gough, Warner Design, Bellendena Small Grants Scheme, and the OUTSIDE THE BOX / Earth Arts Rights team.
This bespoke book is the result of 18 months of dedicated design and production effort. Working in close collaboration with Paul Murphy at Australian Book Connection and with Julie, including discussions about the aims and objectives of the publication, the design has been based on the look and feel of many typical colonial era books.
TENSE PAST is notably small, hard case quarter bound, its title block debossed in gold foil.
This publication was also conceived as a work of art, an operational intervention into libraries. Designed to sit amidst and disrupt undisputed mainstream histories, it hides in plain sight.
Together with over 120 images, historic maps and archival facsimiles, TENSE PAST features an introduction by Dave mangenner Gough and eight compelling and insightful essays by leading writers, scholars, activists and artists: Lauren Gower, Zoe Rimmer, Mary Knights, Joseph Pugliese, Greg Lehman, Neika Lehman, Margaret Woodward and Julie herself that expand the understanding of the colonial project well beyond the scope of the exhibition.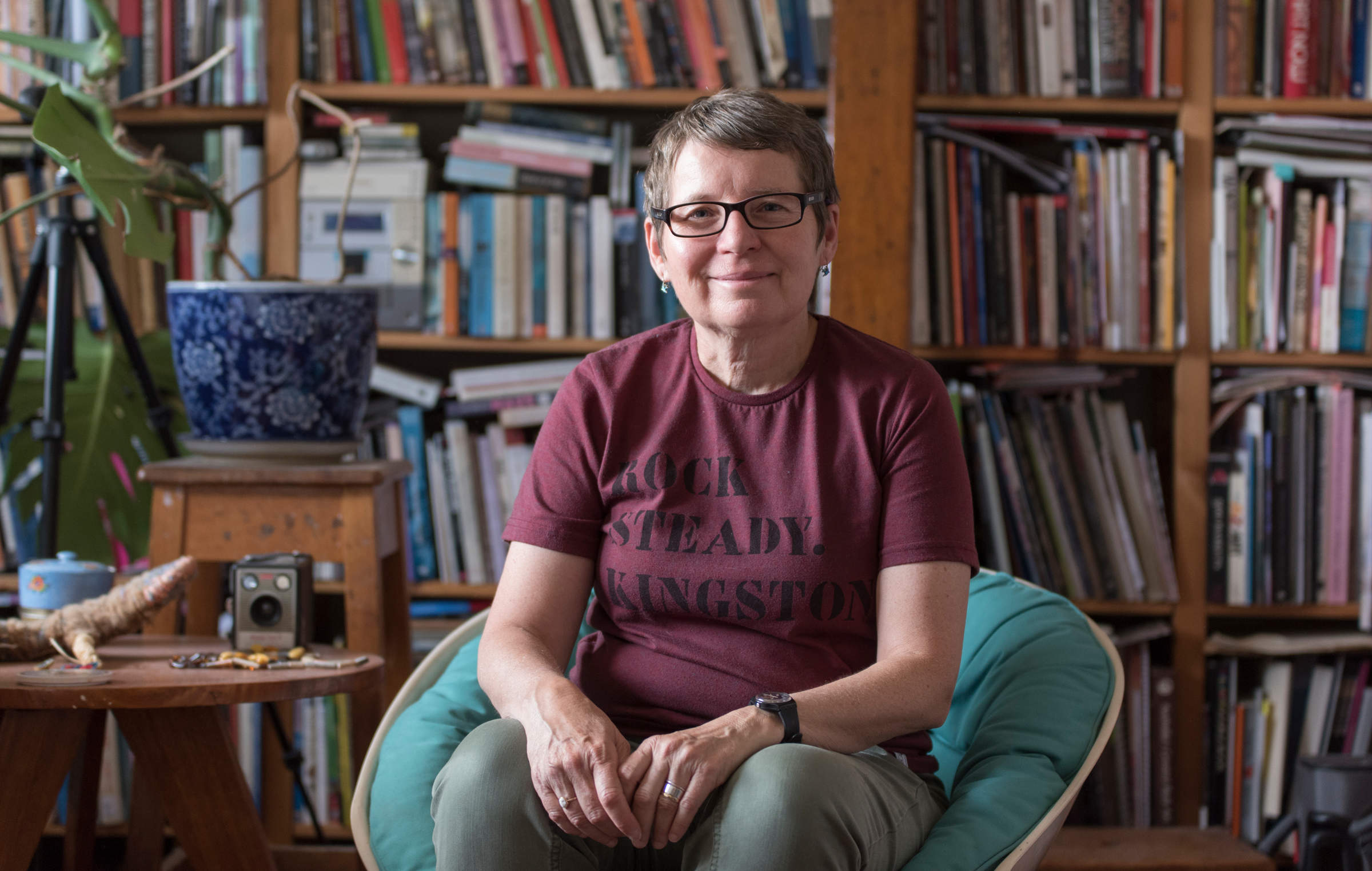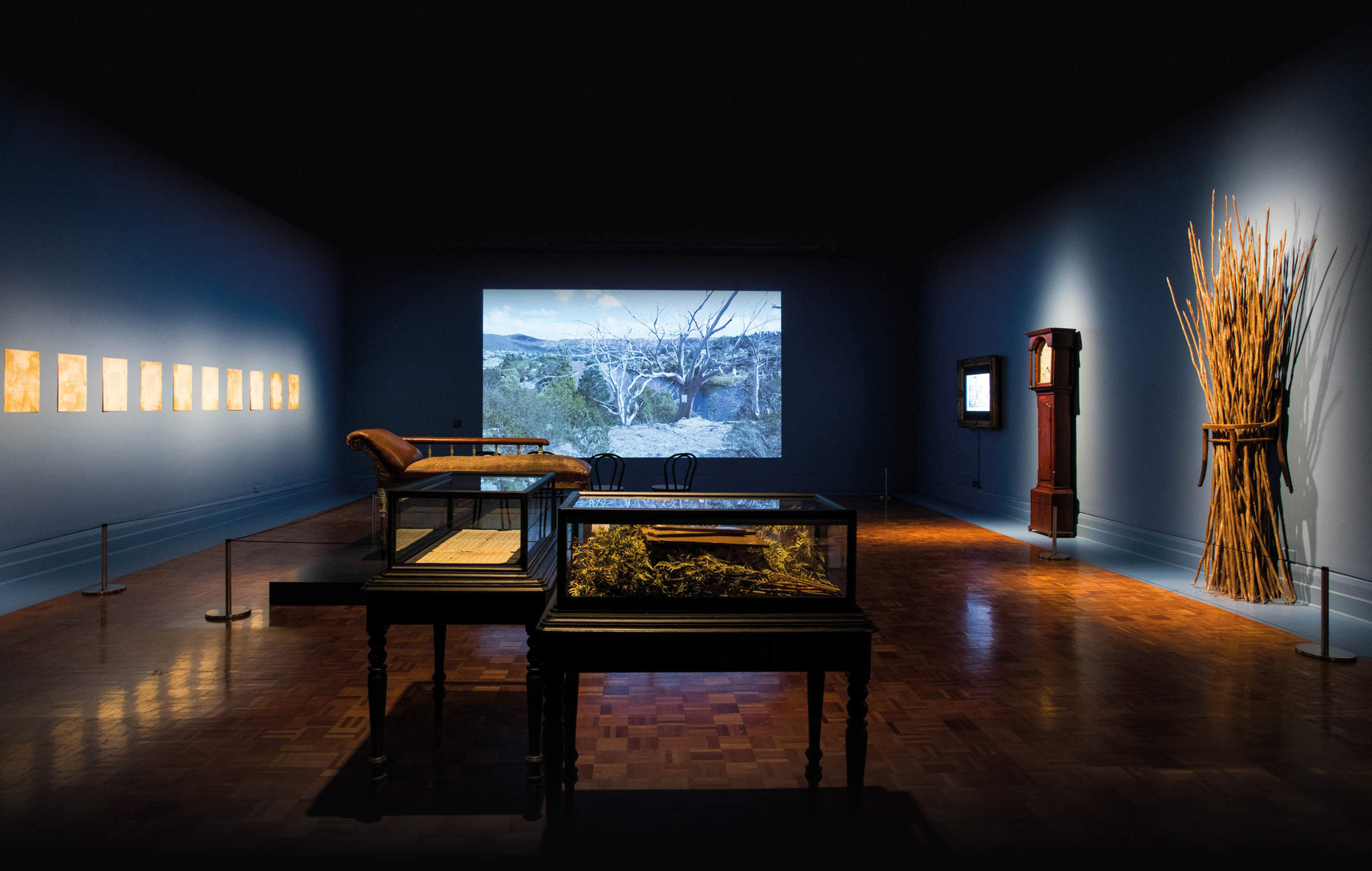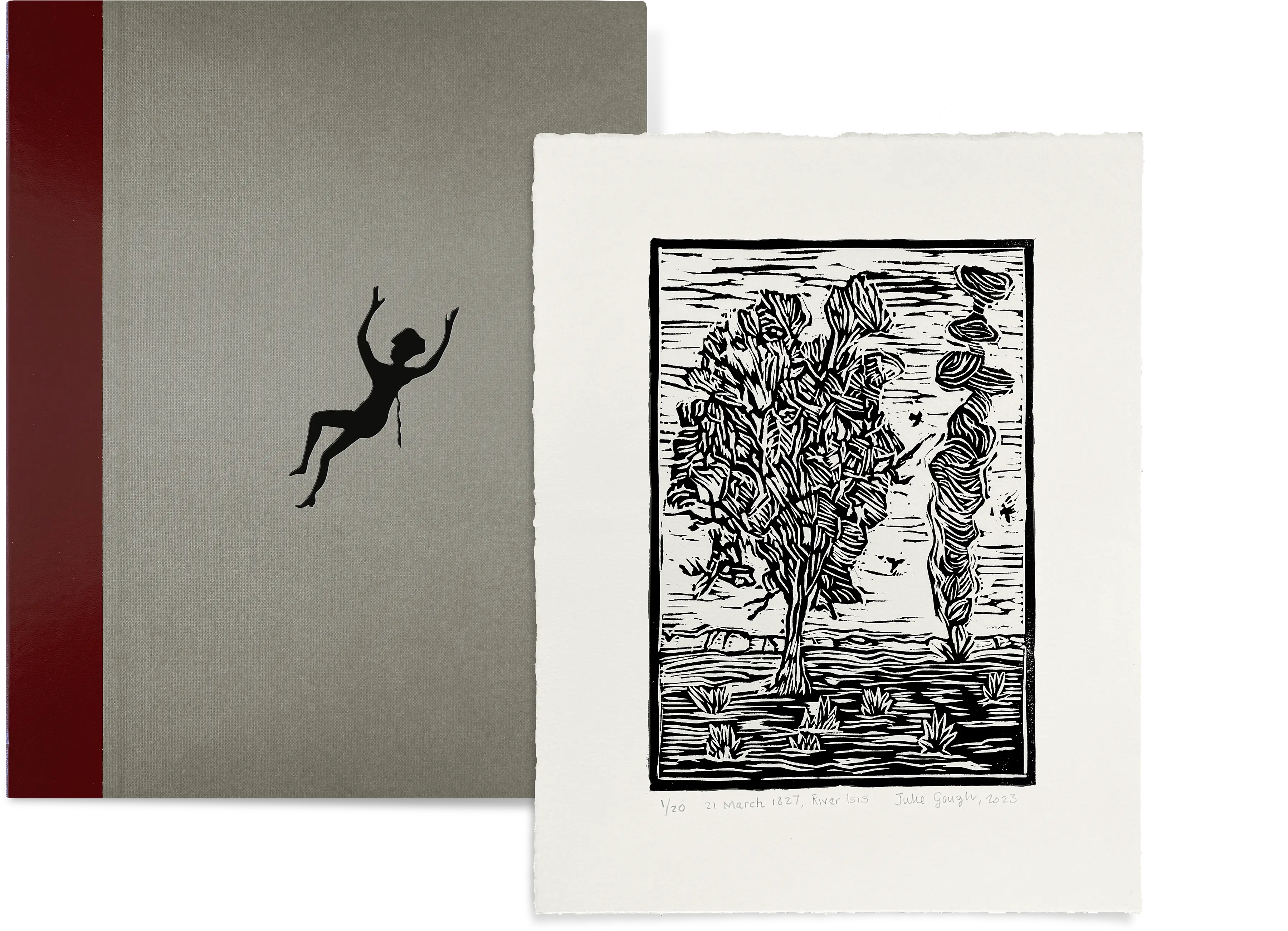 Buy TENSE PAST
Published in four different editions:
Standard – $75
Artist Folio / Book – $750 (edition of 20)
Slipcase – $95 (edition of 50)
Digital – $25
First published under Julie Gough's own imprint Tebrikunna Press in 2021, the Standard and Slipcase editions of TENSE PAST sold out within 3 months of release. The following year (2022), TENSE PAST won two prestigious awards from the Art Association of Australia and New Zealand (AAANZ).
From the judges:
'…extensive original historical scholarship, a poignant moral narrative and contemporary art production, which [gives] the work a memorable gravitas.'
From the judges:
'Powerfully evocative of the past… reveals hidden histories that are timely and important… create[s] a fine fabric of strength and resilience…'
Now in 2023, OUTSIDE THE BOX / Earth Arts Rights has partnered with Julie on a reprint of this powerful, award-winning publication. To mark the occasion of the reprinting Julie has created a limited edition print. Presented in a custom made Artist Folio and sold together with a signed copy of TENSE PAST, this as a very special collector's item.
Full details and specifications for all four editions can be found on our shop page.